December 09, 2020
Dedicated Transportation in the Covid-19 Supply Chain
Daniel Sears
Director, Dedicated Business Development
Supply chain is a tentacled organism that is attached to all business support functions to ensure the efficient movement of goods. Supply chain at its core is under siege. Transportation and distribution face significant challenges across all industries due to Covid-19. As the coronavirus supply chain evolves, CRST International's expertise is engineering, implementing and operating customized transportation networks. Our data driven approach to transportation creates solutions that provide our partners with a competitive advantage. Dedicated transportation is the key to solving for flexibility, capacity and customized final mile delivery.
Covid-19 has increased the need for dynamic transportation planning because each day requires a different solution. The impact of coronavirus has grounded many domestic and international flights forcing small parcels to move over the road. It has also increased demand for basic essentials as well as created new essentials for safety and remote learning at big box retailers. Whether you buy in store, pick up at the curb or have it shipped to your home each method of buying has increased the need for transportation. Our mission at CRST is to create flexible, scalable solutions to support this increased demand. Zone skipping parcel shipments using a relay of dedicated trucks is one way of adding flexibility and improving service to meet this demand. This strategy reduces the impact of peak surge rates and shrinks the ground parcel network from 6-8 days to a max of 4 days. As parcel carrier continue to be overloaded due to ecommerce growth zone skipping will reduce the number of lost packages, reduce late deliveries and ultimately strengthen your customers trust in your supply chain when they order online.
A common symptom of the covid-19 supply chain is oversized LTL shipments. Using a hybrid pool point and zone skip strategy CRST can turn your parcels and LTL shipments into full truck loads using a dedicated capacity model. CRST's commitment to finding customized solutions for your network is a core tenant of our value proposition. Our goal is to expand the use of your dedicated trucks beyond a complex just in time delivery.
As retailers expand their distribution footprint to meet the needs of their customers the following delivery options have become available: DC to home or business delivery and Store to home or business delivery. CRST has the capability to create a customized solution to fit your final mile needs. This white glove service can be as complex as assembly and installation of the product. Or as simple as a threshold delivery with signature. As the channels of fulfillment expand CRST will continue to engineer solutions that are unique our partner's requirements because one size does not fit all.
A successful dedicated transportation network is continually evolving. It should be flexible and agile with the purpose of adjusting to demand and service needs. This requires not only an operational partnership but a strategic relationship between executives. Our best solutions are developed when our engineering experts are afforded the opportunity to consult and assist with the formation of supply chain strategy. Supply chain disruption is the result of a communication failure between planners and operators, but in some cases, it can be traced back to a failure in the formation of the strategy Depending upon CRST to provide continued expertise beyond our initial solution is the best way to avoid supply chain disruption.
Regardless industry vertical, coronavirus has taught us that having inventory in the right place at the right time is the key to a successful growth strategy. At CRST our complex delivery networks include stocking shelves, nighttime unattended deliveries, loading feed containers, rotating inventory and unloading pallets. We understand that for many of our dedicated partners we are executing their sales strategy. Our ability to dynamically route onsite allows us to inject versality and flexibility into your fleet, to accommodate network changes due to demand or service requirements. Furthermore, our larger CRST expedited fleet can be called upon to increase capacity to assist with surge demand. The turbulence of coronavirus has been a major disruptor to those engaging in the global retail economy. However, it also represents an opportunity to invest in dedicated transportation solutions, that can be customized to your delivery network. The CRST team is focused on driving optimal asset utilization, minimal route miles and ultimately the best possible service for the lowest possible cost based on your unique operating and service requirements. These highly engineered solutions allow you to focus your capital resources and leadership on your core operation, while trusting CRST to implement, execute and operate your dedicated fleet.
Recent Post
---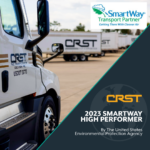 ---
---
---
---