September 14, 2018
CRST Woman Driver Charts and Controls Her Destiny
As the first CRST female truck driver to reach 2 million miles without an accident, Sherri J. Lewis will be the first to tell you to always make safety your priority and to never drive out of your comfort zone.
"Every day is not sunny and this is not a '9 to 5,'" said Sherri. "There will be challenges every day. You need to be careful, stay focused and increase your following distance."
Sherri said she did not achieve this safety milestone and career success alone. She credits her safe driving record to CRST operations team, the good Lord above and her co-driver, Ervin Johnson. Ervin is approaching 3 million miles of accident-free driving.
Company Drivers to Owner-Operators
"It's been a blessing to spend time with Ervin, driving for CRST the last 23 years," said Sherri.
After two years as CRST company team drivers, Sherri and Ervin were considering changing their employment arrangement. While being shut down in a Colorado snow storm, another team-driving couple shared the benefits of being owner-operators.
"We liked the idea of being in charge and I like to challenge myself," said Sherri. "Under the leadership of Dave Rusch and our CRST friends in Cedar Rapids, we've been owner-operators for 21 years. I appreciate that I can call CRST when I need help or advice. And, I've received both from the top. I'm thankful for Dave Rusch. He's been there for me when I needed him, and I've learned a lot from him and his team. I hope to shake his hand again before he retires."
Words of Wisdom for Women
Other words of wisdom Sherri holds close to heart are those of the woman who inspired her most, her mother, Annie M. Lewis. Annie raised nine children while working full time as an RN and went back to college to earn another degree in sociology at age 57. She passed away in 1991.
"My mom had a strong belief in God and had tremendous love for her family," reflected Sherri. "She was a beautiful person inside and out. She never gave up and faced her daily challenges straight on. Mom had great work ethic and taught us how to save. Dad had great work ethic and taught us how to fix things ourselves to save. He just turned 85 and is building his own home. When I go home to Baltimore, he teaches me how to pour concrete and lay cinder blocks."
When asked about her own words of wisdom for women, Sherri offered many of her own and few of her mom's.
"Always believe in God and yourself, as there will be struggles," said Sherri. "Never give up on your dreams. Inspire others. Learn to listen. Be respectful. Control your own destiny."
On behalf of CRST, please join us in thanking Sherri and Ervin for their years of service and Sherri for being a CRST Woman of Inspiration.
Recent Post
---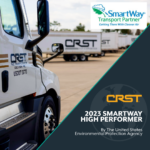 ---
---
---
---