November 17, 2022
CRST Names Abernathy Chief People Officer
CEDAR RAPIDS, Iowa (Nov.17, 2022) — Jenny Abernathy has been named CRST's Chief People Officer (CPO). In this new role, Abernathy will oversee all aspects of Human Resources, joining the efforts of the current Human Resources and Driver Recruitment teams to further CRST's focus on providing career development opportunities and experiences for all employees.
"Jenny's history of success at CRST, coupled with her business acumen, innovative mindset, and ability to foster relationships and build communities while accomplishing meaningful change, make her a natural for this role," said Hugh Ekberg, CRST President and CEO.
The new role will support CRST's focus on providing career paths and development opportunities for all employees.
"Together, we will continue to make CRST an employer of choice by cultivating an environment that supports employee engagement through a positive, productive, and inclusive culture, while attracting, developing, and retaining the best talent," said Abernathy. "People are at the core of CRST's future growth."
Abernathy was most recently Vice President of Enterprise Capacity Development, where she oversaw the recruitment and driver placement strategies for CRST, ensuring that each division and fleet is capable of meeting customer needs. This role will be consolidated under the new role of Chief People Officer. Prior to this role, she served in several management and executive roles within CRST Expedited.
To learn more about CRST, visit: www.crst.com
Recent Post
---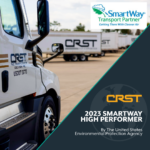 ---
---
---
---