July 31, 2014
CRST International Breaks Ground on New World Headquarters
FOR IMMEDIATE RELEASE
CRST International Breaks Ground on New World Headquarters
Rapid growth spurs development
CEDAR RAPIDS, Iowa (July 31, 2014) – CRST International Inc. Board Chairman John Smith and President and CEO, Dave Rusch, recently broke ground for the transportation company's new $37 million world headquarters in downtown Cedar Rapids, Iowa.
"CRST's rapid growth over the past several years meant we were out of space in our current buildings. As a longstanding member of the Cedar Rapids business community, we wanted to continue our dedication and commitment to this area as well as provide CRST with the facilities needed to grow far into the future," said John Smith CRST Board Chairman and board secretary at the American Trucking Association (ATA). "This building is another exciting step in CRST's future."
Nearly sixty years ago, the company started hauling steel from Chicago to Cedar Rapids using only leased trucks. Today it coordinates over 750,000 loads a year that are shipped more than 600 million miles.
"Our new building will symbolize several things," said Dave Rusch, CRST President and CEO. "First the many achievements of CRST over the years, the excitement of approaching $2 billion in revenue over the next few years, the Smith family's commitment to our community, and finally it recognizes all our employees – from drivers to the board of directors – who are so vital to the health and continued success of our company."
With more than 500 employees in Cedar Rapids, CRST has outgrown all of the company's current facilities. The company will occupy two floors of the 11-story, 113,000 square-foot office tower, which includes eight floors of Class A office space (these buildings represent the highest quality buildings in their market) built above three floors of parking. The other floors will hold various commercial and retail tenants. CRST will keep the other company offices, maintenance facilities and training center at the current location on the southwest side of Cedar Rapids.
The building will be completed in the first quarter of 2016.
# # #
About CRST International Inc.
Cedar Rapids, Iowa–based CRST International Inc. is one of the largest privately-held transportation companies in the United States. Through its seven operating companies, CRST provides a broad array of transportation solutions, including expedited van, flatbed, dedicated services, brokerage, transportation management, high value product white glove moving services and expedited temperature controlled team services. CRST's operating companies are made up of CRST Expedited Inc., CRST Malone Inc., CRST Dedicated Services Inc., CRST Logistics Inc., Specialized Transportation Inc. (STI), Temperature Controlled Team Service (TCTS) and BESL Transfer Co. For more information, visit www.crst.com or call (800) 736-CRST (2778).
Recent Post
---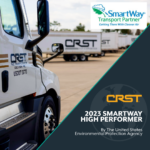 ---
---
---
---