December 19, 2017
CRST International Honors Professional Driver Joseph Scherbring
CRST International Honors Professional Driver Joseph Scherbring
Scherbring, 86, Retires After 46 Years of Service and Driving 5.2 Million Accident-Free Miles for CRST
CEDAR RAPIDS, Iowa (Dec. 19, 2017) – CRST International Inc., one of the largest privately held transportation companies in the United States, hosted a retirement celebration yesterday to honor Joseph Scherbring, an 86-year-old professional truck driver and farmer from Manchester, Iowa, who has driven 5.2 million miles for CRST Expedited over 46 years—and has never had an accident or received a traffic violation.
"It's a bittersweet day for all of us at CRST as we retire Joe's truck I.D. number," said Cameron Holzer, president of CRST Expedited. "Joe, our most tenured driver, has been a role model for CRST's family of truck drivers and we are incredibly honored he chose to drive for CRST for 46 years. There's only a handful of professional drivers in the nation who have driven more than 5 million miles without ever having one accident. We are most proud of Joe and wish him all the best in his retirement."
More than 150 employees attended Scherbring's retirement party at CRST Expedited, 1332 Edgewood Road, Cedar Rapids, Iowa.  CRST announced it has renamed the seminar room, where the retirement party was hosted, the Joe Scherbring Room. When Scherbring celebrated his 40-year anniversary with CRST, the company also purchased him a new Chevrolet pickup truck.
When asked about his more than 46-year trucking career with CRST, Scherbring said, "Well you gotta love it…it would be boring if you didn't enjoy it!"
About CRST International Inc.   
CRST International Inc. is one of the largest and most diversified transportation companies in the United States, with projected 2017 annual revenues in excess of $1.4 billion. Through its eight operating companies, CRST provides a broad array of transportation solutions, including expedited van, flatbed, dedicated services, brokerage, transportation management, high-value product white glove moving services and drayage and warehouse services.
CRST's operating companies are made up of CRST Expedited Inc., CRST Malone Inc., CRST Dedicated Services Inc., CRST Logistics Inc., CRST Specialized Transportation Inc., BESL Transfer Company, Pegasus Transportation and Gardner Trucking Inc. It employs more than 8,000 company drivers, independent contractors and office personnel across the nation. For more information, visit http://www.crst.com or call (800) 736-CRST (2778).
Recent Post
---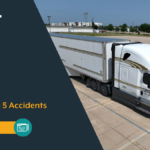 ---
---
---
---