August 01, 2023
Celebrating Purple Heart Day and our Veterans
August 7 is Purple Heart Day, which honors the brave men and women wounded on the battlefield or paid the ultimate sacrifice with their lives. Purple Heart Day—also known as National Purple Heart Day, National Purple Heart Day, Purple Heart Recognition Day, and Purple Heart Appreciation Day—was first observed in 2014 and has been observed every year since.
History of the Purple Heart
The Purple Heart is a United States military decoration awarded in the name of the President to those wounded or killed while serving on or after April 5, 1917, with the U.S. military. Why purple? It's believed that the color represents courage and bravery.
Initially, the Purple Heart was awarded only to Army and Army Air Corps personnel. In 1942, President Franklin Roosevelt signed an executive order allowing the Navy to award the Purple Heart to Sailors, Marines and Coast Guard personnel. That same year, the Purple Heart was made available for posthumous awarding to any Armed Forces member killed on or after December 6, 1941. An estimated 1.9 million Purple Hearts have been awarded since the order was established.
Interesting Facts about the Purple Heart
No individual can receive more than one Purple Heart. Oak-leaf clusters recognize subsequent injuries.
In 1942, Army Lt. Annie G. Fox became the first woman to receive a Purple Heart for her heroic actions during the Japanese attack on Pearl Harbor in 1941.
President John F. Kennedy is the only U.S. president with a Purple Heart.
How to Celebrate on this Day
There are several ways to honor Purple Heart recipients on this day. Veteran and military organizations hold remembrance meetings for fallen heroes and special events to thank soldiers, veterans and Purple Heart recipients. States, counties and cities pause in recognition of the service and sacrifice of their local sons and daughters. The Purple Heart Foundation, the fundraising arm of the Military Order of the Purple Heart, recommends donating time and money to the foundation or other organizations working with Purple Heart recipients. And you can donate your car, boat, motorcycle or other vehicle through the Purple Heart Foundation to provide programs that help veterans nationwide.
How CRST Honors Veterans Every Day
In addition to honoring Purple Heart recipients on August 7, CRST—one of the nation's largest privately held transportation companies—honors our veterans daily with one of the best veteran package in the transportation industry. That's because we know our veterans' value to the job—commitment, determination, a sense of duty and being an all-around team player. In return, CRST offers excellent pay, great benefits and a team that supports our veterans.
VA Apprenticeship Program for drivers with less than 12 months of experience
Guaranteed home time for drill and annual military training
Tuition reimbursement up to $8,000 for CDL Training even if you use GI Bill®
Military Service Pay Credit – Increase your starting pay based on your time in service.
Lease options to own your truck.
Eighteen months of extended benefits and differential pay if deployed, including benefits for your family.
CRST also takes part in Wreaths Across America and outreach to the VA and U.S. Department of Labor to work with networking and sharing new jobs with veterans.
If you're a veteran, we'd welcome the opportunity to work with you—because you may be well suited for truck driving. Learn more about CRST veteran opportunities.
Recent Post
---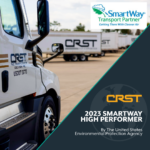 ---
---
---
---