August 15, 2023
CDL or B.A.? Which Pays Off Faster?
You're considering attending college, but the open road is calling you. Perhaps you'll get your CDL (Commercial Driving License), hit the road, and enjoy the truck driving life. Or you'll hit the books for four years and graduate with a degree. Not sure? Let's see which makes more sense in terms of dollars and cents, CDL or B.A. …
What Exactly is a CDL?
A CDL is a special license that allows you to operate a commercial vehicle, such as a semi-truck or bus. To get a CDL, you must pass written and practical exams that test your knowledge and skills as a commercial driver. The Federal Motor Carrier Safety Administration (FMCSA) states that "…CDL holders are held to a higher standard when operating any type of motor vehicle on public roads."
There are several types of CDL, including:
Class A CDL and the proper endorsements allow you to operate tractor-trailers, truck and trailer combinations, tank vehicles, livestock carriers and flatbeds.
Class B CDL and the proper endorsements allow you to drive straight trucks, large passenger buses, segmented buses, box trucks, dump trucks with small trailers and tractor-trailers.
Class C CDL and the proper endorsements allow you to operate small HazMat vehicles, passenger vans, and combination vehicles not covered by Classes A or B.
Whichever you choose, a CDL training school can help prepare you for the written and practical exams. CRST, one of the nation's largest privately held transportation companies, helps new drivers easily find a CDL school through their CDL school database.
What's it Cost to Get Your CDL?
Of course, initially, you'll have to spend money to make money. The cost to get a CDL depends on your state and whether you choose to attend a CDL training school. The bottom line—it can cost anywhere from $3,000 to $10,000.
With a CDL In Hand, What's the Income Potential in Your First Year?
According to ZipRecruiter®, an American employment marketplace for job seekers and employers, the average hourly pay for an "Entry Level CDL Driver" in the U.S. is $36.16 an hour. "The average pay range for an Entry Level CDL Driver varies greatly (by as much as $19.47), which suggests there may be many opportunities for advancement and increased pay based on skill level, location and years of experience." Also consider the added value of benefits, including health insurance and a 401(k) or IRA.
How Does a College Degree Compare?
The fact is, it's a long road ahead for the college student. Let's examine the math. As Trucking Truth puts it: "A year and three months from the starting point, the college student is still learning and acquiring debt, somewhere between $20,000 and $41,250. The truck driver has had several pay raises and grossed about $45,000 in his first year with his new company. He put $6,000 in his 401(k), including a handsome company match. He also puts money in an IRA of $3,000 and buys stocks. He goes home every day to the brand-new house he just bought and enjoys all the freedom that driving offers.
"Over four years, the truck driver has earned $60,000+ this year, and his home value is up $12,500 above the purchase price. His investment portfolio balance is around $45,000."
Conversely, after four years, the college graduate realizes it will take years to pay back those student loans and build a career. They must start looking for a job with anywhere from $68,000 to $140,250, plus interest in debt.
According to Forbes, as of 2023, there is $1.75 trillion in total student loan debt, with $28,950 owed per borrower on average. Sadly, $112B—5.1M borrowers—are in default. 
Good News for Young Drivers! The truck driving life may be just what you're looking for—with more immediate financial returns than the college path. Learn how CRST can help put you on the road toward a successful driving career.
Recent Post
---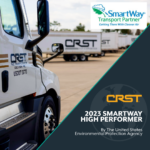 ---
---
---
---