July 06, 2021
Career-Pathing Spotlight – Amanda Scherbring
In both our personal and professional lives, we can all benefit from learning new things and taking advantage of new opportunities. That's what career pathing is all about at CRST.
Amanda Scherbring is a prime example. Now in her seventh role with CRST, the Driver Mentor Manager says there are many advancement opportunities available across the company. "I started as a driver recruiter 11 years ago. I've worked in four different departments and two operating companies," Amanda explained.
Based out of the Driver-Training Center in Cedar Rapids, Amanda's team consists of Driver Mentor Coordinators as well as Student Mentors at all CRST training locations. "We're right in the thick of the student onboarding process. I love helping new drivers start their careers, while also guiding the trainers," she said.
As she strives to continue learning, Amanda has also noticed a lot of improvements at CRST during her tenure. "The focus on the safety of our driving partners has really changed for the better. I am truly proud of our investment in technology, training, and support to keep drivers safe and informed."
So, what makes Amanda stay with Team CRST? "Hands down, it's the people. I learn something new from my peers almost every day," she adds. "It's refreshing to be surrounded by people who truly enjoy helping others."
Thanks for helping our drivers succeed, Amanda! In the office or over the road—we're proud of our hard-working employees who make a positive impact every day!
Recent Post
---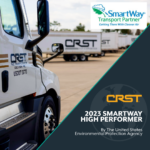 ---
---
---
---