March 20, 2023
CRST Board of Directors Terri Pizzuto
CEDAR RAPIDS, Iowa (March 21, 2023) — CRST is pleased to announce that Terri Pizzuto will be joining its Board of Directors effective March 2023.
Pizzuto brings nearly four decades of executive financial experience to the board and will provide strategic council helping guide CRST, as one the nation's leading transportation and logistics companies.
"Terri's transportation insights and financial expertise are a rare combination that will serve our board well," said CRST Board Chair John Smith. "As our industry continues to evolve, we look forward to having her influence our strategic direction."
Pizzuto currently serves on the Board of Directors for the Shyft Group, a specialty vehicle manufacturer servicing a variety of skilled trade vocations. Prior to this role, she was Executive Vice President, Chief Financial Officer, and Treasurer of Hub Group, Inc., a publicly traded supply chain solutions provider that offers multi-modal transportation services throughout North America.
Chairing CRST's Audit Committee, Pizzuto will be responsible for providing oversight of the financial reporting process, the audit process, the company's system of internal controls and compliance with laws and regulations. "I am delighted to join the CRST board," added Pizzuto. "I look forward to bringing my experience across transportation, logistics and finance to help build on the company's great record of success." She is a certified public accountant and received her bachelor's in science degree from the University of Illinois.
Learn more about CRST's final mile, dedicated logistics solutions at: https://crst.com/transportation-solutions/dedicated-solutions/
Recent Post
---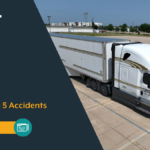 ---
---
---
---