August 24, 2021
Along for the Ride Podcast #4 – Get Ready for the Maven App
Learn about an exciting new driver app rolling out soon at CRST on this week's Along for the Ride podcast. The Maven Platform will improve ELD, workflow, and communications. Join CRST Driver Mentor Coordinator and host, Brian Eichenberger, for an in-depth conversation with top Maven execs and CRST Operations Manager, Heather Chandler.
We'll also hear from Safety Manager, Robert Blevins, on his 12-year CRST career, safety focus, and the company's recent participation in the Iowa Motor Truck Association driving championships in Des Moines. CRST was well-represented by three top-notch drivers and President and CEO, Hugh Ekberg.
Check out Along for the Ride!
Recent Post
---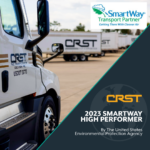 ---
---
---
---