December 06, 2021
Along for the Ride Podcast #11 – Dedicated Solutions Driver Mentor, Asian Gainwell
This episode centers around CRST Driver Mentors. First, Manager – Driver Mentor, Amanda Scherbring joins us.
Amanda talks about her career path with CRST and a change within the Driver Mentor Program.
Later in the show, Dedicated Solutions Driver Mentor, Asian Gainwell talks about growing up in Mississippi and how he handles challenges on the road. Mr. Gainwell is a second-generation CRST Driver!
Listen through the link above, the CRST Blog at CRST.com or Apple Podcasts, Google Podcasts, Spotify, the iHeartRadio app, Amazon Music or Podcast Addict.
Hit subscribe and you will go Along For The Ride!
Join us on Episode 11 – Along for the Ride.
Recent Post
---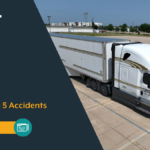 ---
---
---
---