January 31, 2022
Along for the Ride Podcast #14 – President of CRST Flatbed Solutions & CRST Integrated Solutions, Chris DeSchaine
Chris DeSchaine, President of CRST Flatbed Solutions and CRST Integrated Solutions goes Along For The Ride!
Chris discusses the differences in running flatbed versus dry van and the new training program at CRST Flatbed Solutions.
Later in the show, Chris talks about CRST Integrated Solutions. This detailed discussion is about helping contractors and agents build their businesses.
Listen through the link above, the CRST Blog at CRST.com or Apple Podcasts, Google Podcasts, Spotify, the iHeartRadio app, Amazon Music or Podcast Addict.
Hit subscribe and you will go Along For The Ride!
Join us on Episode 14 – Along for the Ride.
Recent Post
---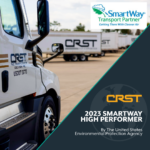 ---
---
---
---