March 19, 2021
A day in the life of a dedicated truck driver
Have you ever considered a dedicated trucking job? You may have heard about the consistent hours or good benefits and want to give it a try. Well, here's a little insight on what it's like to be a dedicated truck driver.
First off, let's talk about the job. Dedicated truck drivers haul freight for one primary customer, which means they usually drive the same route on a day-to-day basis.
An average day would go something like this — the driver would pick up a delivery for a big box store and drop loads off at big box locations or hubs within a specific region. This would be a driver's usual route, rarely having to go outside of it. This means you're more likely to be home every night.
Consistent work hours and income
Drivers are typically granted a lot of stability with dedicated trucking. The hours are consistent, which means it will be easy to know how much money will be coming in every paycheck. Plus, you'll be able to maintain a day-to-day routine.
More time at home
Speaking of consistent routes, it's likely your routes will stay somewhat local, which means it's entirely possible you will be back home with your family on a regular basis.
Familiar faces
As a dedicated driver, you'll get to know your customers when you're driving the same route every day or every week.
Consistent freight
You normally deal with the same freight type and, in a lot of cases, you have very similar weights most of the time.
It's safe to say a day in the life of a dedicated truck driver tends to be reliable, consistent and comfortable. Not to mention, if you drive dedicated for CRST, you get to enjoy benefits like a 401(k), health and dental insurance, life insurance, a referral program and excellent pay.
Recent Post
---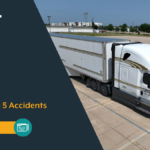 ---
---
---
---