July 03, 2019
40 Years of Trucking and Stories
Alma Fuller developed her love for trucking in 1979 when her late husband started teaching her how to drive a truck. "This is the best way to make your living, so stick with it," he said.
Since getting behind the wheel, she has loved every minute of it, especially the last eight years as a Caterpillar Dedicated Services team driver for CRST.
After 40 years in trucking, the Williston, Florida, resident has driven thousands of miles through all regions of the country. Those years have provided Alma with plenty of stories that she enjoys sharing – like the time she and her husband were driving from New York to Canada and encountered a moose on the road.
Alma, a deeply religious woman, said God is always by her side and has kept her safe for 40 years. Being on the road gives her a sense of calm and time to be thankful for her blessings.
While Alma enjoys alone time, she's never alone while driving. Her co-driver, Roberta "Robert" Augua, age 50, even calls her "Mom."
 Keeping Things Positive
As a female driver in 1979, Alma said she used to get remarks, like "You need to go home and be with your family." Trucking, though, is how she provides for her large family.
"If you can't do it for your family, you can't do it for anyone else," she said.
These days are different – more positive, she said.
Working for CRST makes a difference. Alma likes the way everyone at CRST works together and as one. Her co-workers are like a second family. "This is the best company I have been with and have loved every minute of it," Alma said.
Alma's operations leader, Austin Bildstein, said she's well-known throughout the CAT fleet, especially for her stories and for being reliable and friendly.
"Be courteous and kind to people" is Alma's advice. Say a simple "good morning" to people. The way you represent yourself is what someone is going to remember most, she said.
When Alma isn't working, she's spending time with her many grandkids and siblings.
Her brother once asked if she had plans to retire. "God will let me know when he wants me to retire," she said.
"I hope you don't retire," said Robert, her co-driver, "because they can't clone another you."
Recent Post
---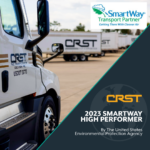 ---
---
---
---