September 19, 2023
CRST named 2023 SmartWay High Performer by EPA 
CEDAR RAPIDS, Iowa (Sept. 19, 2023) — The United States Environmental Protection Agency (EPA) named CRST The Transportation Solution, Inc. as a 2023 SmartWay High Performer in freight transportation operations.
The SmartWay High Performers are identified based on annual efficiency and air quality performance metrics submitted to EPA. High-performing companies achieved efficiency and/or air quality performance within the top range of five ranked performance areas.
According to the organization, high performers are "a step ahead in meeting the challenges of sustainable goods movement" and represent shippers, truck carriers, and logistics service providers in the industry.
"We are proud to be a part of an organization that advances our industry toward cleaner, more sustainable supply chain management," said Mike Gannon, CRST Chief Operating Officer. "CRST remains committed to ongoing improvement and progress in reducing our emissions, and we're grateful to SmartWay for the support and recognition."
EPA's SmartWay program was established to help companies advance supply chain sustainability by measuring, benchmarking, and improving freight transportation efficiency. Working with SmartWay, U.S. trucking companies have saved $47.6 billion on fuel costs.
"The SmartWay program has helped the industry advance the adoption of fuel-saving technologies and operational practices, and we are honored to be recognized for our efforts," added Gannon. "As U.S. freight activity continues to increase, it's even more important that we do our part to improve our efficiencies and air quality performance."
Learn more about CRST's services and solutions at CRST.com.
###
ABOUT CRST
Founded in 1955 by Herald and Miriam Smith, CRST The Transportation Solution has grown to be one of the nation's largest privately held transportation and logistics companies in the U.S. Powered by the expertise of its Solutions Centers, CRST provides a broad array of transportation and logistics services including team expedited, flatbed, dedicated, truckload, transportation management, high-value product white-glove and home delivery. Learn more at crst.com.
Recent Post
---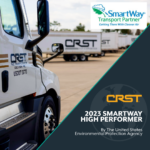 ---
---
---
---