April 20, 2022
Trucking with a Dog
Trucking with a Dog: Things You Should Know Before Taking Fido on the Road
We all know now how common it is for truckers to experience feelings of loneliness on the road. Being away from loved ones for days, or even weeks, at a time can take a toll on mental health. It's tough for many truckers to not have a companion during their travels.
However, there is a potential solution for this if you're a dog-lover. For the most part, truckers are allowed to bring a dog with them during their travels, but it's always best to check with your company before doing so. Usually, there are guidelines that need to be met if you're considering bringing a furry friend along for the ride, such as paying a one-time pet deposit and choosing a dog within certain size or weight limits.
What's the best dog for a truck driver?
Trucks, and even sleeper cabs, are pretty small. So, having a large dog, or even a dog that sheds a lot could make your living space uncomfortable or messy. Keep in mind you'll also need to store a dog bed and their food bowls in your truck, too. Typically, the best dog for truckers is going to be below 30 pounds, low-energy, and low-maintenance. Some of the more popular dog breeds with truckers are:
Chihuahuas
Pugs
Miniature Pinschers
Bulldogs
ShiTzus
Boston Terriers
Dachshunds
Miniature Schnauzers
Yorkipoos
Cavalier King Charles Spaniels
What items should I stock up on when trucking with my pup?
Just like you would at home, when trucking with a dog you need to make sure you have all the right accessories for your dog. This includes the obvious accessories like dog food, food bowls, a leash, a harness, and a dog bed. But it an also include things like a pet travel crate, cleaning supplies, poop bags, dog toys, treats, a dog seatbelt, extra blankets for your dog, a car seat for your dog that hooks to their harness so they can't move around the cab or go flying if you suddenly have to break.
How can I keep my dog safe while driving my truck?
It's important to keep both your pet, and yourself safe while on the road. This means investing in good training lessons for your pup so they understand how to behave while you're driving in addition to investing in that pet car seat we previously mentioned. Make sure your pup stays hydrated and is let out whenever you make a stop so they can go to the bathroom and stretch their legs. Make sure you store any human snacks, medications or other potentially toxic items out of your dog's reach. Lastly, be sure to help your dog exit your truck when you make a stop, dogs can seriously injure themselves when jumping from a vehicle that high off the ground.
What are the benefits of having a pet with me on the road?
It's been proven that owning a dog can lead to a variety of benefits including lower blood pressure and cholesterol levels, a stronger immune system, and lower stress levels. In addition to those health benefits, trucking with a dog can help truckers combat that familiar feeling of solitude while on the road, not to mention, they're just fun to have around!
Recent Post
---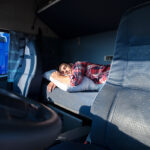 ---
---
---
---