SEARCH RESULTS FOR:
March 21, 2023
There's a general perception that commercial truck drivers are unsafe and aggressive. We want to help mitigate the public's fear of commercial trucks.
Read More >>
March 20, 2023
CRST is pleased to announce that Terri Pizzuto will be joining its Board of Directors effective March 2023. Pizzuto brings nearly four decades of executive financial experience to the board and will provide strategic council helping guide CRST, as one the nation's leading transportation and logistics companies
"Terri's transportation insights and financial expertise are a rare combination that will serve our board well," said CRST Board Chair John Smith. "As our industry continues to evolve, we look forward to having her influence our strategic direction."
Read More >>
March 14, 2023
The trucking industry isn't one size fits all. In fact, there are several types of trucking that appeal to different drivers—one of which is regional trucking. But what is regional trucking exactly?
Read More >>
March 07, 2023
CRST The Transportation Solution has been recognized by The Home Depot as its "Final Mile Flatbed Carrier of the Year" for 2023. Awarded each year by The Home Depot, the honor recognizes a Final Mile Flatbed carrier that shows a commitment to excellence in service performance, responding to and resolving issues, and providing creative solutions for growth.
Read More >>
March 07, 2023
The truck driving life has many reward, such as the freedom to hit the open road and explore the country, and the peace of mind that comes with job security and attractive pay. But there's a shortage of drivers and demand remains high.
Read More >>
February 28, 2023
Artificial Intelligence is helping to evolve the trucking industry and truck driving life—with improvements in fuel efficiency, safety and so much more.
Read More >>
February 21, 2023
With so many different truck driving career paths available at CRST, how do you decide which trucking career path one is right for you?
Read More >>
February 14, 2023
Trucking has traditionally been a male-dominated industry but women are trailblazers in the industry at 16% of truck drivers.
Read More >>
February 07, 2023
As a trucker, there's nothing more frustrating than having to deal with bad weather conditions while on the road like driving with rain.
Read More >>
January 27, 2023
Night driving for truckers can be a treacherous endeavor. Half of driver fatalities and over 70% of all pedestrian deaths occur during dark driving times.
Read More >>
Recent Post
---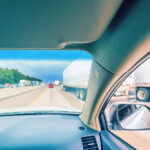 ---
---
---
---