July 12, 2022
Need Something New to Tune into on the Road?
Try these 5 Trucking Podcasts During Your Next Drive
Truck driving careers can feel freeing, exciting, challenging, and even, comfortable. But sometimes those long hours driving alone on the road can feel dull or monotonous – we're just speakin' the truth here! That's why it's important for truckers to keep their minds stimulated throughout their long hauls. Tune into something different with new and fresh forms of entertainment. For safety reasons, watching any sort of show or movie is a strict no-go. But sometimes listening to music for hours on end can feel lackluster. And constantly flipping through the radio to find something you like can be such a headache.
That's why podcasts are a great form of entertainment for truckers during their drives. The options are endless when it comes to podcasts; from true crime, to talk shows the topics are endless. But for the sake of time, we're gonna stick to our top 5 trucking podcasts for you to listen to during your next drive.
Trucking podcasts can range from a variety of sub-topics. Some specialize in recruiting, or new tech, while others just focus on the day-to-day lives of truckers, like yourself. We tried to include a mix of options in our list, check it out to find your next podcast to binge:

1. Along for the Ride Podcast

Of course, this is our top choice — you can't be too surprised by that! The Along for the Ride podcast focuses on candid conversations with CRST Driving Partners, CRST Management and CRST Support Staff. It focuses on each person's own story, and journey, with CRST.

2. Trucker Dump Podcast

Tune into this podcast for truck drivers, potential truck drivers, and curious non-truckers. The goal is to make listeners think about driving around trucks by telling unique and interesting stories from the road. Topics can range from current events to trucking jobs, to speed limits and more!

3. The Truck Show Podcast

This podcast is more on-the-nose when it comes to the topic of trucks. The Truck Show looks at today's world of trucks. It's hosted by veteran a Los Angeles radio personality, Jay "Lightning" Tilles, and truck expert Sean P. Holman (Featured in: Truck Trend, Four Wheeler, Diesel Power, Truckin', Jp, and Petersen's 4-Wheel & Off-Road). These two discuss all things truck-related from mechanics to driving to different makes and models.

4. The Blue Ribbon Podcast – formerly known as The American Truck Driver Podcast

The Blue Ribbon Podcast is about how to thrive in the Trucking Industry – specifically as an Owner/Operator in this case. It's hosted by Larry W. Long and Chris Polk, tune in and listen as they provide helpful information and various tools needed to become a successful trucker.

5. Over the Road

This one isn't a weekly recurring podcast, but it's still a good listen. Over the Road is an eight-part series that gives voice to the trials and triumphs of America's long-haul truckers. It's hosted by "Long Haul Paul" Marhoefer, a truck driver for nearly 40 years. Paul takes you behind the wheel to explore a devoted community and a world that's changing amidst new trucking technologies and regulations.
Next time you're on the road and you're feeling antsy, give one of these a listen. At CRST we believe in doing more than giving our truckers a job that pays well. We believe in taking care of our team by providing a variety of truck driving career options and routes to choose from.
We also pride ourselves on the generous benefits we provide for our drivers like 401k's, health insurance, veteran's benefits, competitive pay, guaranteed, paid time off, and much more! Interested in enlisting in our team? View our available trucking jobs by clicking here!
Recent Post
---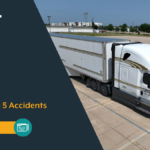 ---
---
---
---