October 19, 2021
Along for the Ride Podcast #8 – "Big Country" Melvin Hamlin
CRST Expedited Solutions "Big Country" Melvin Hamlin, is our featured guest on our Along for the Ride podcast.
CRST Expedited Solutions Senior Driver Mentor, "Big Country" Melvin Hamlin joins the show. Melvin talks about his early memories of being in a truck with his grandfather. He offers some advice to those looking at becoming a truck driver. Melvin also shares his thoughts on Memphis-style BBQ and taking on "The Big Texan" in Amarillo.
Also on the show, Robert Blevins returns to share some information on why you shouldn't veer for deer.
Join us on Episode 8 – Along for the Ride.
Recent Post
---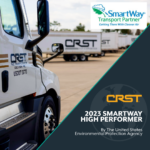 ---
---
---
---