January 13, 2022
Along for the Ride Podcast #13 – Clister & Michael Terry
We start 2022 with a team that has been with CRST for quite a few years.
Driver Services Manager, Clister Terry talks about starting her career, working with Michael as a team driver and what the oddest thing she saw brought to the Training Center. NADTA Driving Instructor, Michael Terry shares what he teaches students, how to function in a team driving environment and how a good relationship between a Driver and Driver Manager is so important.
Also on the show, Director – Driver Learning & Success, Dennis Harrington. Dennis gives the finer points about GoldMine and how this platform will help new & experienced CRST Driving Partners.
Listen through the link above, the CRST Blog at CRST.com or Apple Podcasts, Google Podcasts, Spotify, the iHeartRadio app, Amazon Music or Podcast Addict.
Hit subscribe and you will go Along For The Ride!
Join us on Episode 13 – Along for the Ride.
Recent Post
---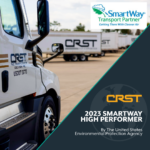 ---
---
---
---