November 01, 2023
2023 Transition Trucking: Driving For Excellence Award – Celebrating Veterans and Their Contributions to the Transportation Industry
The "Transition Trucking: Driving for Excellence" award was launched in 2016 by the U.S. Chamber of Commerce Foundation's Hiring Our Heroes Program (HOH), Kenworth, and FASTPORT to inspire hiring more service members into the trucking industry and to recognize their contributions to the workforce.
CRST's Ondrae Meyers has been named as one of five finalists for the prestigious award. The selection of the Transition Trucking finalists is based on a candidate's exceptional service in the military as well as their success in the trucking industry.
About Ondrae Meyers – Driving for Excellence Award FINALIST
Serving in the U.S. Marine Corps for 22 years, Ondrae is a combat veteran who served tours in Iraq and Afghanistan. With a bachelor's degree in organizational management from Ashford University and a master's in logistics from Trident University, he found his love for trucking was instant, "I knew [trucking] was where I wanted to be the moment I first moved a tractor-trailer," he said. Ondre is currently a part of CRST's apprentice program.
A self-proclaimed Marine forever, Ondrae believes that his new career aligns perfectly with the fundamentals he learned in the military. " I honor my service by continuing to live my life by the Corps values of honor, courage, and commitment. I try my best to show honor through my work ethic and focus on doing the right thing no matter what, focusing on setting a good example for my children. Life also takes a lot of courage, and I try to embrace it every day. Not just the courage to do things that scare you but to have the courage to get outside of your comfort zone and grow. I am committed to my family, my goals, and my career in trucking, and this motivates me to stay true to my life and work goals every day."
About the 2023 Transition Trucking Award
In an effort to curb the driver shortage and create immediate jobs for transitioning military personnel, the U.S Chamber of Commerce Foundation's Hiring Our Heroes Program (HOH), Kenworth, and FASTPORT came together to award a fully-loaded Kenworth T680 Next Generation truck to a deserving veteran who enters the trucking industry.
America's trucking industry has long supported our nation's military families, and several major carriers boast a driving population comprising more than 30 percent veterans.
To learn more about driving opportunities at CRST and the apprentice program, visit: https://crst.com/veterans/
Recent Post
---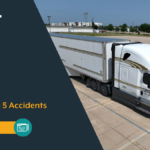 ---
---
---
---